20 Balayage Hairstyle-Balayage Hair Color Ideas
Chocolate Brown Balayage
This incredible style has a deep, luscious variety of browns and reds painted into hair that is almost black naturally. And this proves that healthy, shiny hair helps to show off the balayage style. This example was found over on Ashley Michelle Artistry's Instagram account.
Balayage ombre hair for

s

hort

hair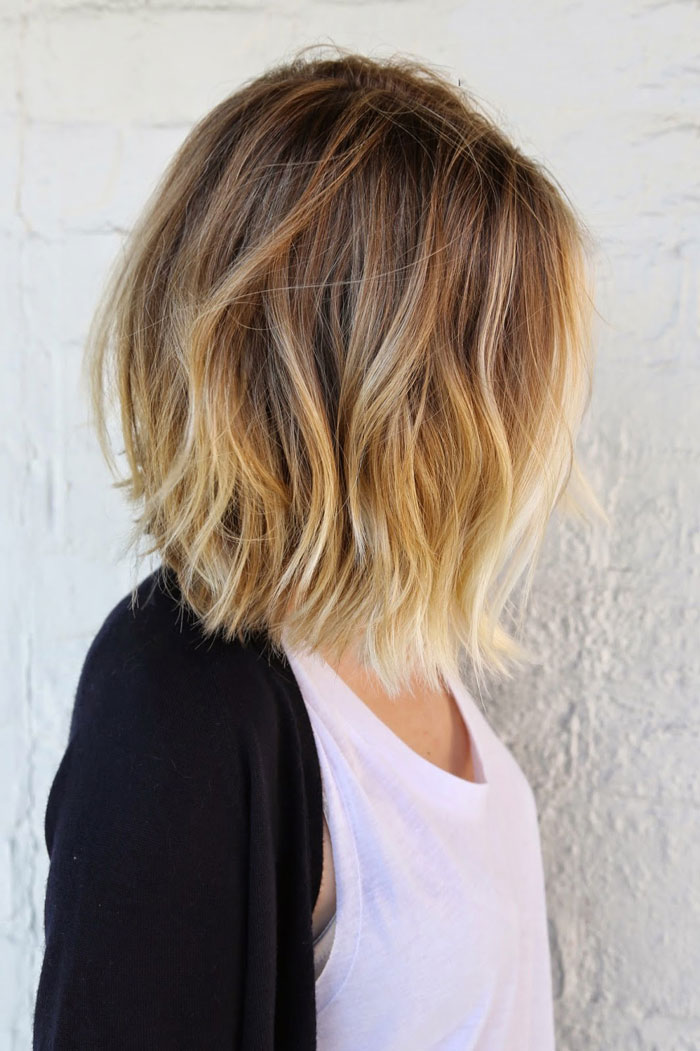 Now is the ideal time for a fresh new look and the sun-kissed blend of colors that come with balayage will be perfect for the sunshine season.
Brown and Blonde Ombre Balayage Hairstyle for Long Hair
This long wavy style is the perfect blend of balayage and classic ombre. No two colors go better together than chocolate brown and golden blonde, so every girl can rest assured that this style will look amazing on her.
Choppy Graduated Bob – balayage bob haircut for medium hair
The graduated bob is a classic cut that will never go out of style. This jagged cut adds a rock chick edge to the style and we love the soft touches of honey colored balayage.
Choppy Balayage Bob for Short Hair
Your balayage bob doesn't have to have an A-line cut to look cool and edgy. This chic crop looks particularly flattering with sun-kissed flashes of caramel blonde.
Long Flowing Locks – Balayage for Long Hair
Luxurious long waves can sometimes be in danger of looking dull if they are all one shade of brown. Adding some super subtle balayage to your mermaid-like tresses can brighten them up and give your look a brand new lease of life.
Centre Parted Beach Waves – Blonde Balayage Hairstyle for Girls
Another amazing way to style long flowing hair is to put it into a side parting with some 'fresh off the beach' waves. This style can make any girl look surfer chic, especially with some golden highlighting balayage.
Back view of Balayage Hairstyle – Balayage Highlights – Chestnut Curls
If your hair is a medium length, give it an extra bit of character and definition by opting for multi-tonal brown ombre. Cute curls make the chestnut and chocolate brown streaks stand out even more.
Extreme Graduated Bob – Balayage For Chic Length Hair
Can't decide whether you want to hack off your long hair in order to get a rock a cool, edgy bob? This extremely contrasting A-line bob is the perfect mix between the two lengths. The style is accentuated by soft shades of brown balayage.
Celebrity Waves – Balayage Hairstyle for Shoulder Length Hair
Blonde Balayage Hairstyle: This golden balayage hairstyle with sleek waves looks totally red carpet ready. Try this look for your next big night out and you're guaranteed to turn plenty of heads.
Contrasting Curls – Most Popular Balayage Hair Color Idea
The juxtaposition between dark and blonde here is a little more dramatic than some other types of balayage. If you would prefer a bolder look, these glossy curls will look great on you.
Subtle Blonde Highlights – Balayage for Medium Hair
It's no secret that rich brown shades can make hair look glossy and full of life. However, a few understated hints of blonde balayage can make even the healthiest head of hair look in better condition than ever.
Balayage Hair Color Idea for Dramatic Lob
Balayage hair color ideas for 2017 – Lobs are literally all the rage right now, thanks to celebrities such as Kim Kardashian and Selena Gomez. This style is usually worn in a very neat, chic style but this jagged, super layered take on the lob looks youthful and fun.
Mousey Brown – Back view of Simple easy Balayage Hairstyle
Balayage can be used to lift a usually dull color, such as mousey brown. These ever-so-subtle dashes of blonde look almost natural and add just a little bit of extra sunshine to the style.
Balayage Hairstyle for Long Hair: Light Brown
If you really want to add a new lease of life to your mousey brown locks, dare to go just that little bit bolder with a shimmering shade of golden blonde. The choppy layers at the very end of the hair make this sun-kissed balayage stand out even more.
Balayage Hairstyle for Wavy Hair – Black and Gold
Balayage hairstyles 2017 – Girls with brown or blonde locks are able to experiment with a range of balayage shades which match perfectly with their own natural color. But what if your hair is jet black and you don't feel like dying the entire thing? It's easy. Stand out with a bold shade of gold which looks gorgeous on a black backdrop, especially with these long mermaid waves.
Long and Layered
If you're worried about your long hair looking lank or heavy, break up those flowing ends with plenty of layers and a hint of chestnut balayage.
Layered Lob – Balayage Hairstyle for Medium Hair
Here is another gorgeous way you can rock a layered long bob. Texture and dimension are added to this lob thanks to the messy curls and contrasting blonde balayage.
Two-Tone Brunette – Balayage Hairstyle with Waves
Dark haired girls really know how to make balayage their own. As if these luxuriously long sweeping curls weren't beautiful enough on their own, the subtle brown balayage really adds an extra hint of character.